November 13th, 2014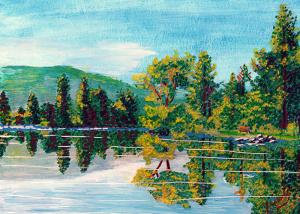 Reading. I absolutely, positively, love reading. I do it every chance I get. If I'm early to a meeting, I read. If I'm waiting for an appointment, I read. If my family is settling down to watch a movie for the evening, I read. Currently, my goal is 100 books a year. To date, I have 84 books read, just finishing up with Bonk by Mary Roach.

I find television very educating. Every time somebody turns on the set, I go into the other room and read a book. - Groucho Marx

The best so far this year:

#1 The Immortal Life of Henrietta Lacks by Rebecca Skloot

#2 Speaking to My Madness: How I Searched for Myself in Schizophrenia by Roberta Payne

#3 Awkward Moments (Not Found in Your Average) Children's Bible – Vol. 2 by Horus Gilgamesh

#4 The S&M Feminist: Best of Clarisse Thorn

When I choose books to read, I try to read more than those confirming my biases. Since I took science and nutrition courses in college, I go ahead and pick up creationist, alternative medicine, and other anti-science materials from time to time. For politics, I have no problem reading biographies from both sides of the isle. Usually, politicians are putting their best foot forward so even if I wouldn't vote for the person, the read is entertaining (Dreams From My Father by President Obama and Faith of My Fathers by John McCain). Finding a good economics book is difficult (can't say that I've enjoyed a single one I've read). So forth and so on. Most books end up on my reading list from recommendations, gifts, or through passing mentions on blogs or other social media.

The books that make it on my best list have to give me a WOW moment. Sometimes I'm brand new to the topic, so the "wow" moment is, "cool, I didn't know that." Sometimes, the "wow" moment has more to do with "wow, that person has been to hell and back." With children's books, it can be "wow that is an excellent way to bring a complex subject to children." Other times, I'm pretty familiar with the subject so am looking for concise and accurate writing. For recipe books, I don't have time to try out all the food, if I can find a dozen recipes I really like, I consider that five stars worthy. Currently, I'm playing with The Science of Good Cooking by Cook's Illustrated. I've tried out the Banana Bread and suggestions from their Hot & Sour Soup. I can't wait to try some of the meat suggestions.

My web page of choice for keeping track of all my books and reviews is Goodreads.com. I have 16 more books to read this year and a list of 375 books I want to read. The more I read, the longer my to-read list gets.

November is a good time to get the flu shot. Till next time, stay healthy, be happy.
November 1st, 2014
Celebration. Halloween is my favorite holiday of the year. It might be the dressing up or it might be the excuse to eat chocolate, gum drops, lollipops, lemon drops, sugar sugar sugar. This year I'm dressing up as a black widow. Unfortunately, it is a purchased costume. Eventually, I'd like to design and sew my own creations. My painting to the left is an example of something I think I could manage fairly easily.

I'm reminded of a Halloween six years ago when my husband was literally a few inches from certain death. I suppose that would have made any black widow art or costumes unacceptable. Luckily, what happened has become an interesting story and not a horror in my life. My husband's job was a few miles from home and he would bike to and from work. That evening, he was done early and started home, with the idea of surprising me and the kids and being there in time to go out trick-or-treating. I didn't even know to expect him home when my phone rang. It was a very brief conversation, him asking to come pick him up because his bike was unrideable.

Half way home, he'd decided to get off his bike and walk it up the remainder of a steep hill (we lived on the South San Francisco Industrial City hill, behind the R, his work down the hill near the water's edge). As he was trudging along, road to his left and a steeply slanting hill of rocks upward to his right, a loose grip on the handlebars, he was shocked when his bike went flying out of his hands, landed several yards up the rocky hill, and a crumpled car came to rest over the top of it. The car had swerved off the road, hopped the sidewalk, hit his back tire, and crashed up the hill before being stopped by the rocks. Other than shock, his thumb was a little sore from being bumped by the bars.

Happily, the driver, though her car was mangled, walked away unharmed. She'd just gotten off work after pulling several shifts and she'd fallen asleep behind the wheel. I'm glad she is okay, I'm ecstatic my husband isn't dead. I did not like arriving at the scene with flashing lights from cop cars and a firetruck, I kept telling myself, "he called me, he's okay." When I pulled up an officer asked who I was and exclaimed that my husband was an extremely lucky man. This is when I began to shake. My husband tossed the twisted bike in the back of our vehicle and hopped in. Home wasn't far, the kids were dressed and ready to go, we went and got lots and lots of candy.

I'd always liked Halloween growing up. Now, it is a reminder to squeeze my zombies, pirates, ghosts, and husband tight... while enjoying a sugar high.
October 14th, 2014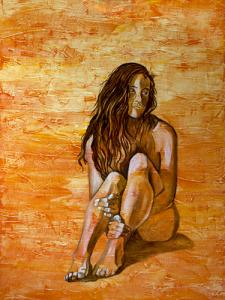 Audience. One of the applications that I made sure to get for my webpage was google analytics. Interesting to see how often my page is being visited and from where in the world. Don't worry, I have no idea how to track down who exactly is visiting. Thus far, I get a nice amount of traffic, nothing of superstar status but many appreciated regulars. A heartfelt thank you to anyone stopping by to read.

Because my audience is exceptional to me, despite the scarcity of comments (ahem), I've decided to share a story I rarely tell anyone. Twenty years ago, I suppose it would have been shocking to a considerable number of my friends and family, happily not as much these days. This story goes back to my college days, broke and with a little bit of talent. It has to do with the first artworks I ever sold and the only time in my life that I did not freak out over someone wanting commission work. They were small pieces, graphite and charcoal, of women. Sometimes embracing, often nude, always tasteful.

How did I land commission work to draw nude women? Glad you asked. I had a good friend living in the apartment next to mine during my first years of university. He had a night job and would often come over during the day to hang out. We'd talk about school, stress, crazy people that night shift workers have to deal with, art, and guys. He was gay. To be honest, he didn't think much of my art or my taste in men (what can I say, I'm attracted to heterosexual guys) but we got on well and he was always willing to take a look at my latest attempt at drawing or painting. My first art class happened to be figure drawing, different naked model per class. He'd critique what looked weird and what looked realistic, helped me go from very poorly done drawings to an A by the end of the quarter. One afternoon, a few weeks after finishing the course he asked me if I'd be willing to render lesbians. My first thought,"great, this guy isn't gay he's completely bamboozled me!" Then he explained that he had a friend. Oh sure, a "friend." Long story short, he did have a guy friend interested in lesbian nudes. The friend was tired of hanging up Playboy photos and wanted something authentic, original, and affordable. I received $25 per 8"x10" drawing he wanted. Ultimately, I made $200. My favorite works included: two women holding each other in a standing embrace and looking to each other's eyes, two women laying side by side in a state of bliss, two women sitting next to each other crossing a hand to the other's knee (no faces were in that one). Of all the drawings I did, I can't remember a single full frontal or sex scene.

Somewhere in the world, those drawings may still exist or maybe they were tossed by a girlfriend or wife. Acceptance of lesbians in the 90s seemed conditional as something hot. Gays were mostly still better off in the closet. Perhaps I should have been upset at the request in terms of objectification. Then I think about the purchased artworks and my favorites among them. Back before I gave LGBT issues and relationships much thought, I wanted my drawings to be about love not effing. Today, if I had them to do again, I'd still want that (and I'd charge a lot more). At this time in my life, I have no plans of re-walking that path. For now, I'll leave that to the women artists who understand personally what it means to give their heart to another woman.

Now dear readers, you are among a small select group of friends who know that story. As time passes, I hope it loses all ability to shock anyone. Peace and love to you all.
September 30th, 2014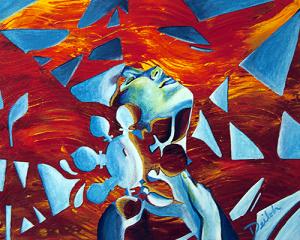 Vicodin. I've been having neck pain off and on from a herniated disc last March. The initial sketch that I did for this month's painting came from my neck pain and medication. It morphed since then as I played with colors and techniques. Now I like to think of it as blissful and serene.

On a slightly heavier note, today is International Blasphemy Rights Day. This day started as a reaction to a Muhammad cartoon circulated in 2005. The dutch cartoonist dealt with heavy backlash in the form of serious death threats. Since then, there have been murders, Vincent van Gogh's greatgrandnephew, Theo van Gogh, for example. He was killed for making a movie about women's rights in relation to radical Islam. I'm not going to post any blasphemy today -because I didn't plan for it. Today I'll be grateful for countries with freedom of expression. It may not be perfect, but it is good to live where I don't have to worry about being jailed or killed by my government over disagreements in religion or politics. This issue is extremely important to me as an artist, as it is to many creatives pushing envelopes, expressing ideas, mirroring unrest. I've only pointed to one religion, coincidence only, the cartoonist and movie maker are creatives such as myself so I thought of them.
September 15th, 2014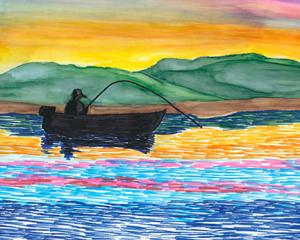 Swing. My goals for the foreseeable future are eight small paintings and two large paintings per month. This gives me weekends off and a day a week to catch up. Thus far, work is moving along swimmingly. I finished up the Starcraft II work, finished a mural I'd started three years ago, reworked an old piece and completed two small paintings.

The Fishing artwork is continued work with markers. It is a petite 5″x7″ because I needed something simple, cheerful and calm. I'm attempting to keep stress levels as low as possible. Ideally, I'd lock myself in the house and refuse to talk to anyone for a few weeks. My husband reminds me that that isn't very healthy and I'd probably end up playing hours of video games.

I'm pretty happy with the Starcraft II painting. It has once again reminded me that I am not ready for commission work. I loved trying something new and I learned a lot. I also found it incredibly nerve wracking. Much better to stick to getting inspired and running with it, whatever the results may be. For now.
September 1st, 2014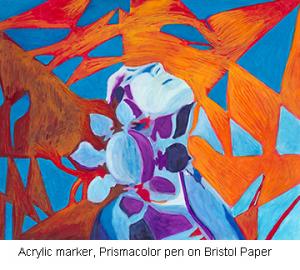 Creating. For my sketch book, I like to use tombow brush pens. I adore the pens, not a good idea to do any finished work as they are not light fast. Frustration comes in when I've gotten a sketch to come out really nicely and I can't manage to get my paintbrush to do the same effect -especially when high detail is important. Mostly, this is lack of practice with brush technique and I could solve it by putting down the tombows and dedicating time to practice.

Anyway, I have an artwork that needs completing in the near future and I really have no idea how to do it. I've consulted books and online chats but ultimately it is going to be up to me to figure out the puzzle and have a final piece. I have a solution. It'll make experienced artists cringe but it is going to work. I'm using smooth bristol paper (my graphite drawing paper of choice), spreading a thin layer of gesso and using sandpaper to smooth out edge marks made by the pallet knife, printing a very light outline of the piece I've already sketched (the final piece is 8″x10″), and using a combination of prismacolor markers, acrylic markers, and paint brushes dipped in denatured alcohol. The gessoed paper is because I tend to be really hard on paper surfaces when I'm using ink or paint. Lifting off paint or scrubbing areas is easier for me with a gesso layer. The acrylic markers are for blocking off areas to prevent ink spreading and feathering where I don't want it while also laying down color, the ink markers allow me to do quick detail and slowly build up color and dimension. The alcohol is because ink will pool on gesso making dark unattractive lines, it can also help with blending. It has to be applied sparingly or it'll push the ink or make its own rings. I'm pretty darn sure there is a much easier and time efficient approach and I'm pretty sure I'll learn it eventually. Okay future self, am I screaming or did it work out?

The entire point of sharing all this is that the act of creating is a learning process, ALWAYS. I'm trying something because I don't know any better and I'm okay if it fails. If it fails, I'll try something else, read more blogs, bug more artists.
July 27th, 2014
Okay, took me a little longer than expected to get started. Extreme exhaustion from May activity and writer's block. The webpage is up, the blog is rolling. And I need to get back to painting.
May 5th, 2014
Accomplishments. The month of April drove me a little crazy trying to get 30 paintings done in 30 days. Not sure I'll ever go that intense again. I did get it done and decided to keep 15. Extremely useful in my new adventure with Mountain View A la Carte Art Fair, first weekend in May. The week leading up to the event had me on pins and needles but all went well and I'll be doing what I can to get in more events.

I have Campbell's 2nd Saturday art walk this next weekend. A very small venue with an advantage of being free to participate. Open Studios follows on the heals of that.

When May is wrapped up, I'll be assessing changes to my set up, deciding how to afford entrance fees to venues, and putting together a plan of action for getting paintings done as well as giving me the space to dream of new and captivating artwork.

The web page is coming along at snail's pace. I've been working with someone to help with the HTML and we've both suffered set backs due to illness and life events. I'm really hoping to get it completed before Open Studios. Once that is done, I'll be putting a number of older pieces on Ebay. There is nothing wrong with the art -work pieces exploring directions I'm no longer interested in pursing.
March 31st, 2014
Starting Tuesday, April 1st, I'm challenging myself to do 30 paintings in 30 days. These paintings will be 8"x10" acrylic works on bristol paper. In the next few weeks I'll also finally get my new web page launched and blogging will continue from the new site. I currently have six paintings in storage that I'm very seriously thinking about putting on Ebay auction. All in all, going to be a very busy month.